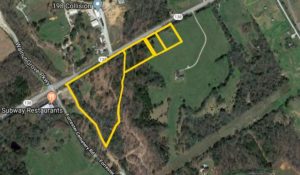 This property is located on GA Hwy 138 at Forrester Cemetery Road in Walnut Grove, GA. Walnut Grove is a growing area of Walton County and is included in the most sought after school system. Excellent opportunity on major commuting route with growing population. Closest shopping and restaurants are 7 miles away.
The preliminary site plan shows the following:
Tract 1 – 7.90 Acres – Large convenience store with gas pumps, including a 4,800 SF convenience store and a 4,100 SF restaurant.
Tract 2 – 3.09 Acres – 1-story 6,800 SF retail/office building.
Tract 3 – 1.00 Acres – Restaurant site with drive-thru.
Tract 4 – 1.88 Acres – 1-story 12,200 SF retail/office building.
The above uses and many more are allowed under the C-2 zoning category, including many office and some light industrial uses.
This is part of a master planned community including 157 homes.
Inquire for pricing.
Property Map