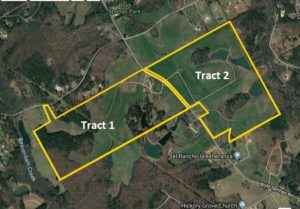 Located on Bold Springs Road in Northwestern Walton County. This property is convenient to Gwinnett County, Atlanta and Athens. It is convenient to get to GA 316 and Highway 78. Major shopping can be found a short 5 miles away at Barrow Crossing at the intersection of GA 316 and GA 81. This includes major retailers Publix, Target, TJ Maxx, an AMC movie theatre and much more. Downtown Monroe and it's historic charm and unique businesses is a short 6.5 miles away.
This property, previously Bold Springs Nursery, is a gorgeous mix of established pasture and wooded land. It is split evenly by Bold Springs Road with 153 acres on the east side and 153 acres on the west side of Bold Springs Road.
Tract 1 includes 3 lakes, a custom built home with a pool, and a shop.
• The custom home is a 3 bed room 3 bath home with 3,486 sf. It was built in 1987 and includes an unfinished basement as well as an unfinished upstairs area that could accommodate another bedroom and bath. The home includes heart pine floors and custom wood work and a large masonry fireplace. A screened porch and deck overlook a large lake with a gazebo.
• The shop is a 80'X25' shop with 4 roll up doors and an attached 20'X15' break room.
• Additional pad and or foundation footings are included that could accommodate 2 more shop buildings of
• There is a water save area adjacent to the shop that could still be utilized if desired. This is where the trees were stored prior to delivery and a system was put into place to capture the water from irrigating them and funneling it into the lakes.
Tract 2 includes mostly established pasture and 3 lakes. Large oak trees from the previous nursery line the road frontage at Bold Springs Road giving it spectacular road presence.
ROAD FRONTAGE:
Tract 1
• Bold Springs Road – 1,765.44 feet
• Stock Gap Road – 143 feet
Tract 2
• Bold Springs Road – 2,514.07 feet
Property Details
Price: $12,000 per acre
Address: 3920 & 3745 Bold Springs Road
City: Monroe
State: Georgia
County: Walton

Property Type: Land
Size: 306+/-
Zoning: A-1
Future Use:
Utilities: Water, Gas, Electricity, Telephone, High Speed Internet
Divisible: Will consider

Property Map
Virtual Tour
https://vimeopro.com/southeastdrone/george-baker-1/video/345948721